Creating Unity With SOUVENIR OFFICIAL
Amazing people and organizations are Ambassadors to the independent She For Social Impact Awards and its platform. They share our vision for a sustainable future and engage with us in elevating women who create societal, economic and environmental impact. Together we foster gender diversity, inspiration, education and collaborations across industries and countries for a better tomorrow.
Such like-minds are Karin Oender and David Mallon, the leading duo behind Berlin-based label SOUVENIR OFFICIAL. The renown brand resonates with impact-mined youths and people across the globe and has garnered celebrity fans such as photographer Juergen Teller, creative Virgil Abloh, actress Sienna Miller and musician Dev Hynes aka Blood Orange. In this interview Karin and David talk about their vision, the brand and share their approach to opinion-wear.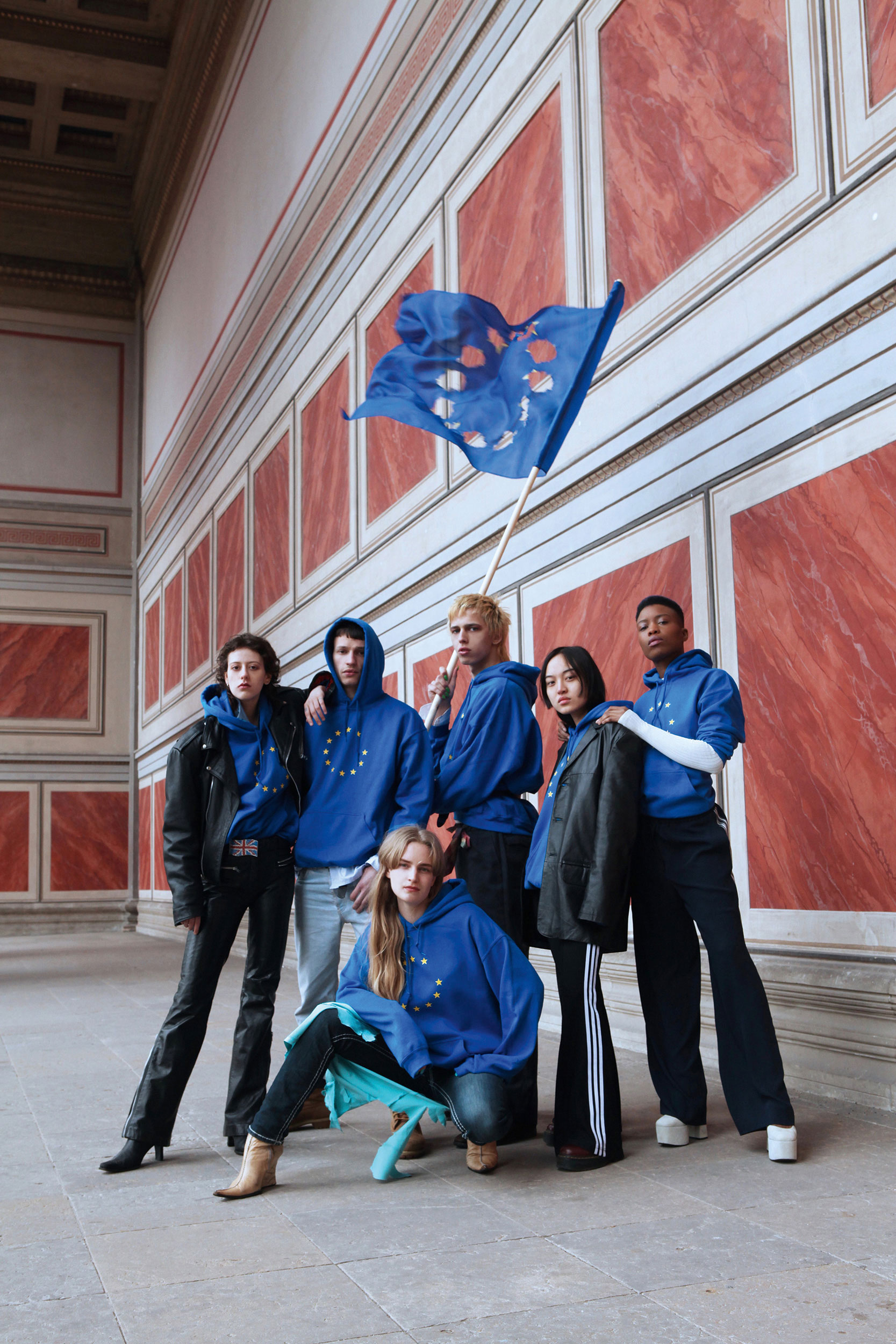 "EUnify" campaign
SOUVENIR OFFICIAL's most recognized collection is the "EUnify" project launched in 2017 during times facing Brexit, and through which the label campaigns for unity and inclusion at times when the world seems to fall apart.
Photography – Vitali Gelwich
"NO SHAME" campaign
A project about body positivity for all; ages, genders, colors and sizes to let go off the shame about ones body and to unlearn to shame those of others. Because No Shame Is Freedom Is No Shame.
Photography – Jakob Landvik
"We create opinion-wear. As activists of our beliefs, we connect products with contemporary culture to create lasting memories to remind and share alternatives for a better world. We create opinion-wear for you to share a message with us."
SFSI: What's the background here, meaning what lead you to set up SOUVENIR OFFICIAL?
D: In 2011 we started a concept gallery with a rotating selection of souvenirs designed by artists. In short – we wanted to make the souvenir great again.
SFSI: What's the influence that your children have on your work?
D: They have increased the pressure to do something meaningful. Because the future belongs to the youth!
SFSI: Assuming they are also taking on the role of thought leaders among their peers given your work?
K: I wouldn't deny that, but we also try that both boys can be children for as long as possible.
SFSI: How does the young generation today, that doesn't know the "before digital" world, cope with "digitally-led" realities?
K: In our eyes, many children deal with this new time in a very impressive way. Even though the pressure of comparison has increased, many young people use new media like Instagram with consideration and often with a very good reason. To for instance report on political and humanitarian affairs, body positivity, gender and sexuality, health and the new luxury and many, many more topics that are meaningful.
SFSI: What do you think shall be done more of for the youth?
D: First and foremost Education! Education! Education! We urgently need to renew our education system. Right now, systems in place are taking our children's childhoods.
SFSI: Talking about SOUVENIR OFFICIAL – EUnify is your most popular opinion-wear campaign up until today. How did you experience its influence in the Brexit discourse?
D: Our EUnify hoodie is a medium of protest and a call to action! The project began in May 2017, as a comment on the shock of the Brexit vote. It asks for critical engagement with the EU and our global politics of collaboration. The campaign has globally activated people, celebrities and brands off- and online. Provoking and providing people the possibility to visually identify and spread the message. Since the project release, the EUnify hoddie has also evolved as a tool for political activation for young people and for people who would otherwise not be reached. Creating unity in a world that is falling apart is an important goal of this project and makes it so powerful.
SFSI: What was the best or most surprising response to your EUnify campaign?
K: We are very grateful for all the people who support the project. And we have been surprised by how many have participated in the campaign. But one of the most important and rewarding things for us was to see the record participation of young people in the 2019 European elections.
SFSI: What do you do to apply sustainable practices at SOUVENIR OFFICIAL?
D: As entrepreneurs we have the responsibility and the possibility to help protect the environment. Therefore, we have changed our production and are working with GOTS certified factories (Global Organic Textile Standard) in Europe. Using a 'one-chain' EU production also results in less pollution, and all of our packaging is made of compostable and biodegradable materials. So 100% plastic free!
SFSI: Which woman and her impact-led work impresses you the most and why?
K: For me all women who are speaking their truth are impressive.
D: Yeah, totally agree.
SFSI: Thanks Karin & David!
Become Awards Ambassador
You are an individual or an organization that shares our vision for a sustainable future? You want to engage with us in elevating women, who create societal, economic and environmental impact and to foster gender equality, inspiration, exchange and collaborations across industries and countries?
Change happens when people come together! Send us your request and we'll get back to you soon after.